The best treatment for Back and Joints!



Posture Correction – Long-Term Result!



Dealing with Acute Pain Without blockages – Guarantee!
Работаем с 2011 года!
За 18 років роботи ми допомогли більш ніж 50000 пацієнтів
Без боли и медикаментов
Лікуємо винятково методами фізичної реабілітації та массажу
Любой возраст
Кращі комплекси лікування як дорослих, так і дітей
В мережі працюють досвідчені та сучасні фахівці вищої категорії. Досвід лікування захворювань спини та суглобів від 5 до 35 років. Лікарі та реабілітологи постійно підвищують кваліфікацію, приймаючи участь в конференціях та семінарах.
3D Сканування Оболонь + Консультація
Consultation + Massage*
*Only for new clients
6 шагов успешного лечения заболеваний
15-20 хвилин
400 грн.
Консультація відповідно протоколів обстеження захворювань спини та суглобів (невролог, ортопед-травматолог, вертебролог). Історія хвороби, симптоми, МРТ. Призначення лікування відповідно до індивідуальних особливостей. Складання програми курсу та рекомендації.
Функціональна діагностика
30-40 хвилин
Безкоштовно
Лікар огляне та опитає вас. Якще вже є результати МРТ, УЗД та рентгена – проаналізує знімки і поставить діагноз. Якщо немає – випише необхідні напрямки.
М'язовий Корсет від ®КИПАРИС
30-90 хвилин
від 175 грн. за заняття
М'яка тракція спини з декомпресійним ефектом та відновленням м'язового корсету на медичному пристрої ®КИПАРИС. Ефект досягається за допомогою індивідуальної програми під контролем лікаря та фізичного терапевта. Працює при гострих станах. Безпечно для дітей та дорослих.
Комплексно-терапевтичний масаж
30-60 хвилин
від 307 грн. за заняття
Професійна робота масажистів-реабілітологів допомагає визначати тригерні точки та опрацьовувати м'язи та суглоби. Відновлює крово- та лімфообіг, знімає дискомфорт та біль у шийному, грудному, поперековому відділах спини та кінцівках у дорослих та дітей. Може бути лікувальним, загальним, спортивним та сегментарним (за призначенням).
ВКТ (Відновлювальна Кінезіотерапія)
30-45-60 хвилин
від 275 грн. за заняття
Програма лікувальних тренувань з відновлення функцій опорно-рухового апарату без осьового навантаження при захворюваннях спини та суглобів, відновлення після травм та операцій. Сесії з фізичним терапевтом за індивідуальною програмою, складеною лікарем.
30 хвилин
Безкоштовно
Огляд та оцінка результатів курсу. Надання плану для підтримки досягнутих результатів та профілактики. Надання рекомендацій дотримання режиму, харчування. Питання-Відповідь.
Treatment programs
Опис та Ціни лікувально-профілактичних курсів. Здоров'я Вашої спини – безцінне! Обирайте курс і записуйтеся сьогодні!
Videos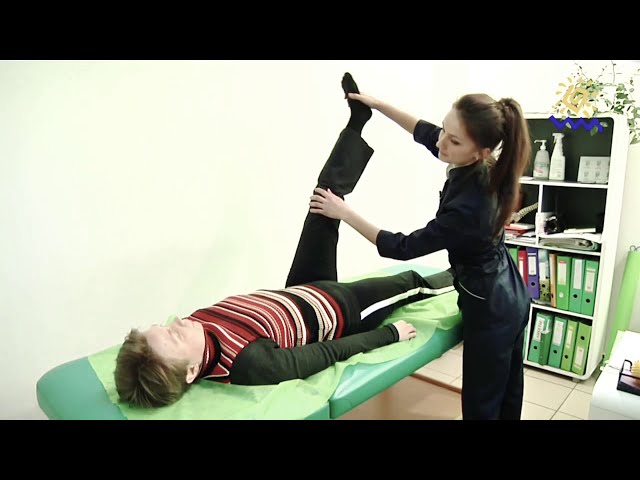 Back ambulance – about Center
Detailed information about the "Back Ambulatory" and problems with the spine, joints and muscles, which are successfully eliminated by the doctors and rehabilitation specialists of the Center.
Истории выздоровления
Scoliosis in a child
Patient story: Dmitry needed to correct the curvature of the spine and relieve neck pain.
Vegeto-vascular dystonia
Patient story Diana came with complaints of dizziness, headache. There was discomfort in the region of the heart, anxiety. The sleep regimen was disturbed, and general weakness was observed.
Pain in the neck
The story of the patient Andrei came with pain in the cervical spine, which radiated to the left arm and was aggravated by movements of the hand. There was also numbness in the fingers and headache at night.